Hey! I am Big Badge V's daughter, Olivia! Now, there is absolutely no way I can live in this family and NOT read, right? This page of our website will be dedicated to book reviews. Ideally, this will be the page that people can go to in order to see what we're reading and how we felt about each book. This page should be a place with TONS of reviews and recommendations so that we can all read and share together. Obviously, since I'm just a kid, a lot of the books I review will be "girly-teen-romance," but I, along with the rest of my family, will be trying really hard to get all sorts of material reviewed for everyone. Big Badge himself will have to do the biker books! I hope this page helps you to find a book you want to read. Happy reading!
The Selection by Kiera Cass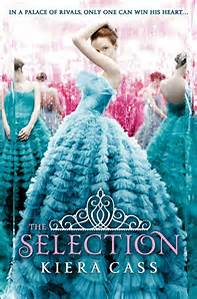 This is absolutely one of my favorite books I have read in a while. The Selection is a young adult contemporary/dystopian novel. It revolves around the main character, America. In the book, our country has fallen apart and a new form of government has been set in place. With a wicked caste system, America is a Five and her secret boyfriend, Aspen, is even lower as a Six. Although America's parents want her to marry up in the caste system, America and Aspen have a secret love that can't be reckoned with, until The Selection. America despised The Selection and how superficial it was. She didn't understand what the big deal about Prince Maxon was anayway. The Selection was the government's version of The Bachelor. Every girl, meeting certain standards, would sign up to take part, but only thirty-five would be chosen. Not only do girls get a shot at the prince's heart, but they also receive money for their families. This was a huge opportunity for America's large family, who really needed the extra money. She didn't want any part of it, though. America wanted to countinue earning money, through her music career, for her future with Aspen. After enough convincing from her famiy and Aspen, America signed up. The problem is that she was chosen! She has to live in the palace with thirty-four other girls and the prince she despises.
This book is incredibly "teen-girlish," but it is addicting. The storyline keeps a nice pace that is easy to follow, but extremely exciting. Throughout reading the book, it is very difficult to not be intrigued. Whether it be because the of the cute boys, the girl drama, the crazy love triangle, or the political aspects the book is amazingly entertaining. This books is a great beginning to a wonderful five book series.
Nowhere but Here by Katie McGarry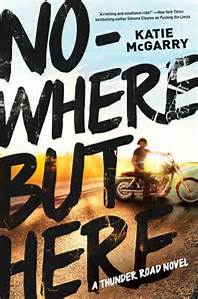 ATTENTION: TEEN BIKER BOOK!!! YOU MUST READ!!!
Nowhere but Here is an amazing book! I love to read the cutsie little teen books, but this is a book like I have never seen before. I have never heard of a young adult book that accurately talks about biker life. This book is the greatest addition to young adult fiction in a very long time. There isn't enough teen literature about this "biker life" that I have lived for so long now. This is a book that I can actually really relate to! This book is about Emily and her visit to see her father. Emily was told for her whole life that her father is a bad man and that he left her and her mother for the biker world. So, when Emily's mom makes her go see him for her grandmother's funeral, she isn't too thrilled. Based on some unusual biker circumstances, Emily has to stay with her father for a much longer period of time than she expected or wanted. Now, Emily has to live with her dad, who she thinks is an awful person, and all these gross bikers. Since Emily only has to stay there for her own safety, she has to have a sort of protector. Her father appoints a prospect named Oz. The only reason Oz will protect Emily is because he is the prospect! Prospects do what they're told if they ever want to have a full patch! This book had plenty of cute romance moments, but it also has a ot of biker politics as well. I have never seen a young adult book revolving around this lifestyle, so I really wasn't expecting it to be accurate. IT WAS! This book very clearly illustrates that the author did her research which makes me appreciate the book 100 times more! If you're a biker that wants to see your world from a teen girl's perspective, or if you're just intrigued by the story, I highly recommend this book!
P.S. I made Big Badge V. read this one… and he loved it just as much as I did! He has also made contact with the author! Isn't that crazy?!?
Harry Potter and the Sorcerer's Stone by J.K. Rowling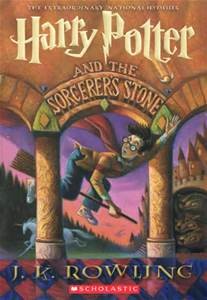 So… I never read any of the Harry Potter books as a young kid, like everyone else. I always convinced myself that is just wasn't my thing. I have recently read this and have come to the conclusion that this book can be EVERYONE's thing. If you somehow don't know, Harry Potter and the Sorcerer's Stone is a middle-grade novel about a young wizard. In this first novel, Harry Potter finds out that he is a wizard! He learns he has to go to wizard school, which is Hogwarts. In this book, Harry learns that almost everyone in the wizard world knows who he is before he does. This is really strange because in the muggle (human) world, Harry isn't known or loved by anyone. For some reason, everyone knows the name "Harry Potter" and have higher expectations for his because of it. Harry has to go to wizard school and learn how to use magic, stay out of trouble, meet people's insanely high expectations, and make friends. It gets to be a lot for Harry, especially when he has to fight evil on top of it all. I loved the innocence of this story. Harry is just a young boy trying to make his way through school, but he is also an amazingly talented young boy who has quite the reputation for something he doesn't even remember. I also love the fact that Harry an his friends are just a couple of kids who are absolutely hilarious. This book takes every scrap of reality and twists it into such a fantastic world. This is a book for any person at any age. If you have even considered reading it, do it! You will not regret it!
Hamlet by William Shakespeare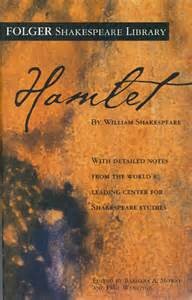 This is definitely different from the other books I have reviewed, but I feel that it is totally necessary. This is a play I recently had to read for AP English, and I wasn't excited at first. Now, this may be my favorite thing I have ever read! This play has so many intriguing themes and aspects. If you don't know, this play is about Hamlet, the prince of Denmark. His father dies, and he is heartbroken. While he is nourning and thinking nothing could be worse, his mother gets married… to his uncle! This is a dark play about love, betrayal, and revenge. I loved this play so much. Of course, there is a little romance, but there is more insanity and trickery than anything else. The overall tone of this play was so appealing to me. It is very dark and problematic, but then there are parts that are absolutely hilarious! Hamlet's attitude is so funny! The modern equivalent to him would be the guy that walks into a meeting twenty minutes late, makes a huge scene and just says "what up, dude?" In my eyes, Hamlet is super sarcastic and sassy, but he is smart! For the most part, he knows what he's doing and how he has to act around certain people. This play is absolutely intoxicating. Between family drama, girl problems, and revenge on everyone's mind, this play is incredibly entertaining. This is an amazing play that has quickly become my favorite book ever! This is definitely something that will appeal to all sorts of people of all ages.
P.S. Big Badge V. is a Shakespeare FREAK!!! It's one of his favorites!
Red Queen by Victoria Aveyard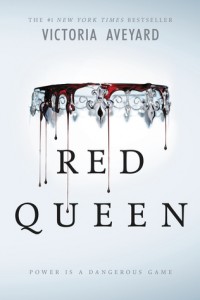 Incredible. I absolutely adored this novel. Royalty and special abilities combine to create a beautifully complex world. Each character is incredibly crafted into someone that seems so real. So, in this world, there are two main types of people. There are those with red blood, and those with silver blood. Having silver blood automatically makes a person one of the elite citizens in the world. Sliver blood means much more than just a color. When a person has silver blood, they have special, superhuman abilities. There are people roaming around this fictional world that have the ability to control fire, water, and even metal.
Mare Barrow is just another red blood, who makes money from her thieving ways. In some very strange and unexpected events, it is discovered that SHE has abilities, even though she has red blood. She has to live a lie to cover her secret, and protect her family.
Mare's story includes incredible characters like her best friend, Kilorn, the princes of the land, Cal and Mavin, and her many brothers and sisters. All of these supporting characters helped to illustrate a very sad and empowering story.
This book was truly incredible! Aveyard's incredible writing and lovable characters created an amazing story for the reader. Between the revolution for a better world, and a continuous guessing game to Mare's love interest, the book is remarkably fast paced and entertaining.
I would totally recommend this book, and I will be reading the sequel soon! Be sure check it out and let us know if you liked it, too!
Shatter Me by Taherah Mafi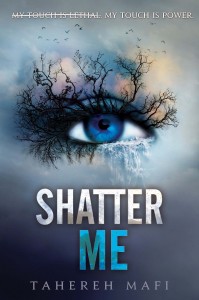 I AM OBSESSED WITH THIS SERIES!!! This is a trilogy of perfection! This is a book about a young girl named Juliette. Of course, Juliette is different from most girls. Her touch is lethal. Her skin can kill a person in just a few seconds. In the beginning of the novel, Juliette is summoned out of her cell and discovers that the government has a desire for her powers. Juliette has to go on a crazy adventure to escape the head of the government, a young and handsome guy named Warner, with a new (super hot soldier) friend, Adam Kent. Through her wild adventures, she learns the truth behind Warner's intentions and things change for Juliette. In this epic story about the battle between familiarity and true love, the truth and rebellion triumphs over all else.
Fangirl by Rainbow Rowell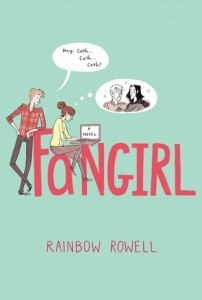 Such an amazingly real story! This is a book about a girl named Cath and her journey through self-discovery in her first year of college. Cath assumed that she and her twin sister Wren would room together, because they have for their whole lives anyways. Her world is turned upside down when Wren tells her they shouldn't room together, because college is about meeting new people. Cath has to learn how to balance school with her fangirl obsessions, while also learning how to be a social person. This story was so well written, and it is incredibly relatable. I think so many girls could see themselves in the same social struggles that Cath struggles with. It is pretty easy to rather be locked in your own room reading and writing, than going out into the unknown and meeting new people. Fangirl is such an adorable and inspirational story about becoming yourself, even when you're too scared to try. I totally loved this and think you would love it too!
The World is Black and White by Christopher Knight
WHO IS THIS AUTHOR AND WHERE HAS HE BEEN HIDING ???
Folks, I NEED to tell you about this book that I recently finished. This book, "The World is Black and White" was released in 2008 by Michigan author Christopher Knight. 
I have ta tell ya that I struggled to put down my signed copy of this book. First of all, I can't understand how this author crammed that much action into this little book !
Page after page of very fast paced events. The author does an excellent job of describing the setting and made it very easy to paint a metal picture. His introduction of the cast of characters was nothing less than genius. I had a fascinating time flipping through the pages of incredible story. Since I've made this trip many times over my lifetime, it was easy for me to follow the route across the country.
This is the story of a young man that was forced to grow up way too soon and the elements that made that happen. It's a story of a life lesson, about things not always being cut and dry or "black and white". The book has absolutely nothing to do with race or ethnicity but rather about overall perspective on life and not judging a book by its cover. 
I'm extremely proud to have met this Michigan author and honored to take a ride on his imagination within this story.
In my humble opinion, this book is best suited for an adult audience and probably not so much for 16 and under. 
WELL WORTH THE TIME TO READ !!!
YOU WONT BE SORRY !!!
You can find this book and others from this author at any major book retailer or visit your local library.
Big Badge V – Bikers for Books