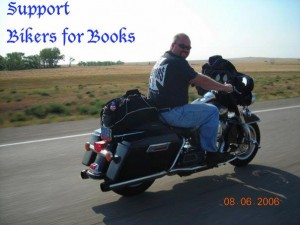 My motorcycle has taken me many places. I remember going to the Blessing of the Bikes in Baldwin, Michigan. We took the highway there because we wanted to get there fast. On the way home, we took some back roads and ended up going through the Hardy Dam, what a beautiful place.  In 2003 a group of friends and I went to Sturgis, South Dakota, we took Highway 131 to Ludington. We spent the night in Ludington and got up in the morning and took the USS Badger across Lake Michigan. We traveled through Wisconsin, Minnesota and on to South Dakota. We traveled all over South Dakota, went to Sturgis, Deadwood, Spearfish Canyon, Wall Drugs, the Bad Lands and Fort Custer. I went again in 2006. Visiting all the same places plus a few more, like Devils Tower in Wyoming. My motorcycle and I have made many journeys to places that I had never been to before.
I believe reading books does the same thing; they take your mind many places. I remember reading the Outsiders and I felt like I was one of the greasers fighting in the park. When reading Brian Bosworth's autobiography, I felt like I was in the Chrysler factory working alongside him,  or on the football field sticking my finger through the ear hole in the opponents helmet to make them mad and get in their head.  The book I am reading now, Out Bad, makes me feel like I am at Laughlin during the bike week when the Mongols and Hells Angels were fighting in the Casino.
Books and Bikes are awesome, they free your mind and take you anywhere you want to go.
Tank