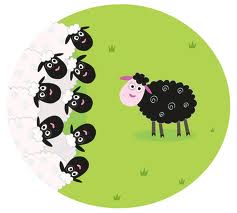 As a child growing up, my family practiced a religion that forbade us from
celebrating any type of holidays. I remember feeling weird and out of place
during the holidays at school. I became a master of lies when my friends
asked why I wasn't dressed for Halloween, or why I couldn't participate in
the gift exchange during Christmas parties. I was really bummed out when
so many other kids got Valentines cards during the party. Thank heavens
for the teacher or I would have gone home empty handed. I would tell my
classmates that I forgot my Valentines cards (to hand out) at home, or that
I forgot it was Halloween so that's why I didn't dress up. We never had
Christmas at home either. I remember my mom going to town to pick up
government commodities like free cheese, powdered eggs & milk, enormous
cans of peanut butter & honey, and we also got canned pork meat. We were
cool with that because we didn't know any better. I guess we just thought
everyone got that stuff. I remember my friends loved quesadillas at our
house because of that cheese.
On one particular occasion, while picking up the government cheese, my
mom signed my little brother and I up for "Christmas Kiddies". The local fire
department sponsored a charity to supply Christmas presents for local poor
kids. They worked all year raising money to buy the presents for any kid
who needed them. I remember the night the fire department showed up at
our house to drop off our presents. I was about 10 or 11 years old, at the
time. The fire engines pulled into our driveway with all the lights flashing.
Naturally we freaked out because we thought it was the cops! When mom
figured out it was the fire dept. dropping off our Christmas presents, she
ordered us to run and hide, as not to spoil the surprise. We didn't even
know how to act because we had never experienced Christmas before. That
present, was the very first Christmas present I ever got. I remember it in
detail, it was a set of Tonka trucks, about six of them in one package, they
were all camouflage military vehicles. Even now I can clearly envision the
wheels, the cloth canopies and the brown plastic stakes. I dug up every
green plastic army guy that I had in our toy box in order to play "Army" for
hours/days in the snow. I couldn't wait to go back to school to tell all my
friends about MY Christmas and about my Tonka trucks. Often times I would
initiate conversation about Christmas because for once I had something to
share. That year I didn't feel weird, I felt like I "fit in", like I was normal. I
will take that feeling to the grave with me.
Folks, THAT feeling of "fitting in", that feeling of normalcy is exactly what we
are trying pass and/or create with Bikers for Books. We are trying to make
every reader feel normal and supply them with good reading material. With
your help, that is what we intend to do. I ask you to join me in supporting
Bikers for Books……Big B (a normal kid).